May Newsletter & Updates
Take advantage of these May savings and special offers!
Botox $11 Per Unit
Fillers $75 Off
Aqua Gold $450 (Normally $550)
Kybella- $100 Off Per Treatment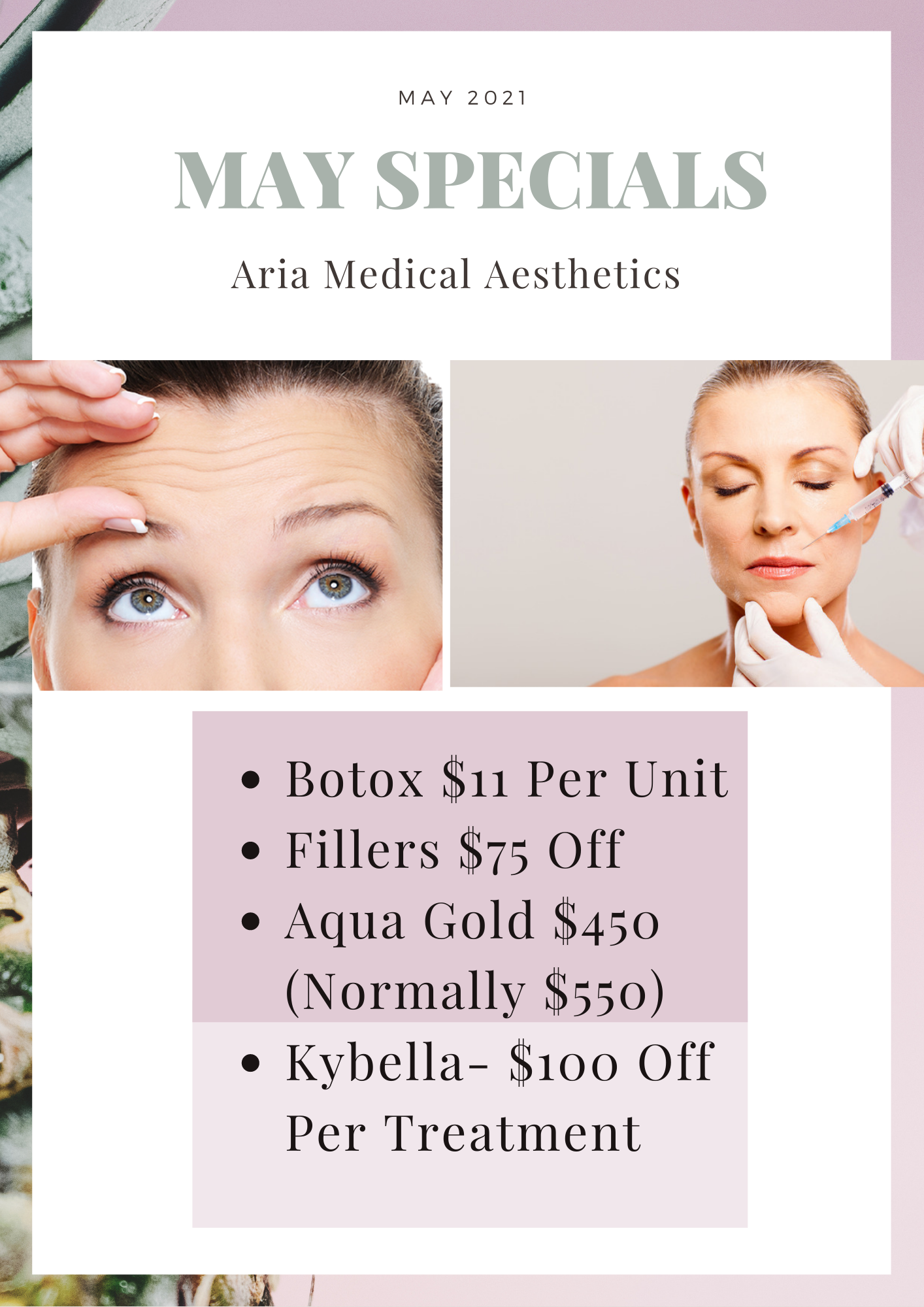 Treatment Spotlight: Kybella
Kybella
KYBELLA® is a prescription medicine used in adults to improve the appearance and profile of moderate to severe fat below the chin (submental fat), also called "double chin." It is not known if KYBELLA® is safe and effective for the treatment of fat outside of the submental area or in children under 18 years of age.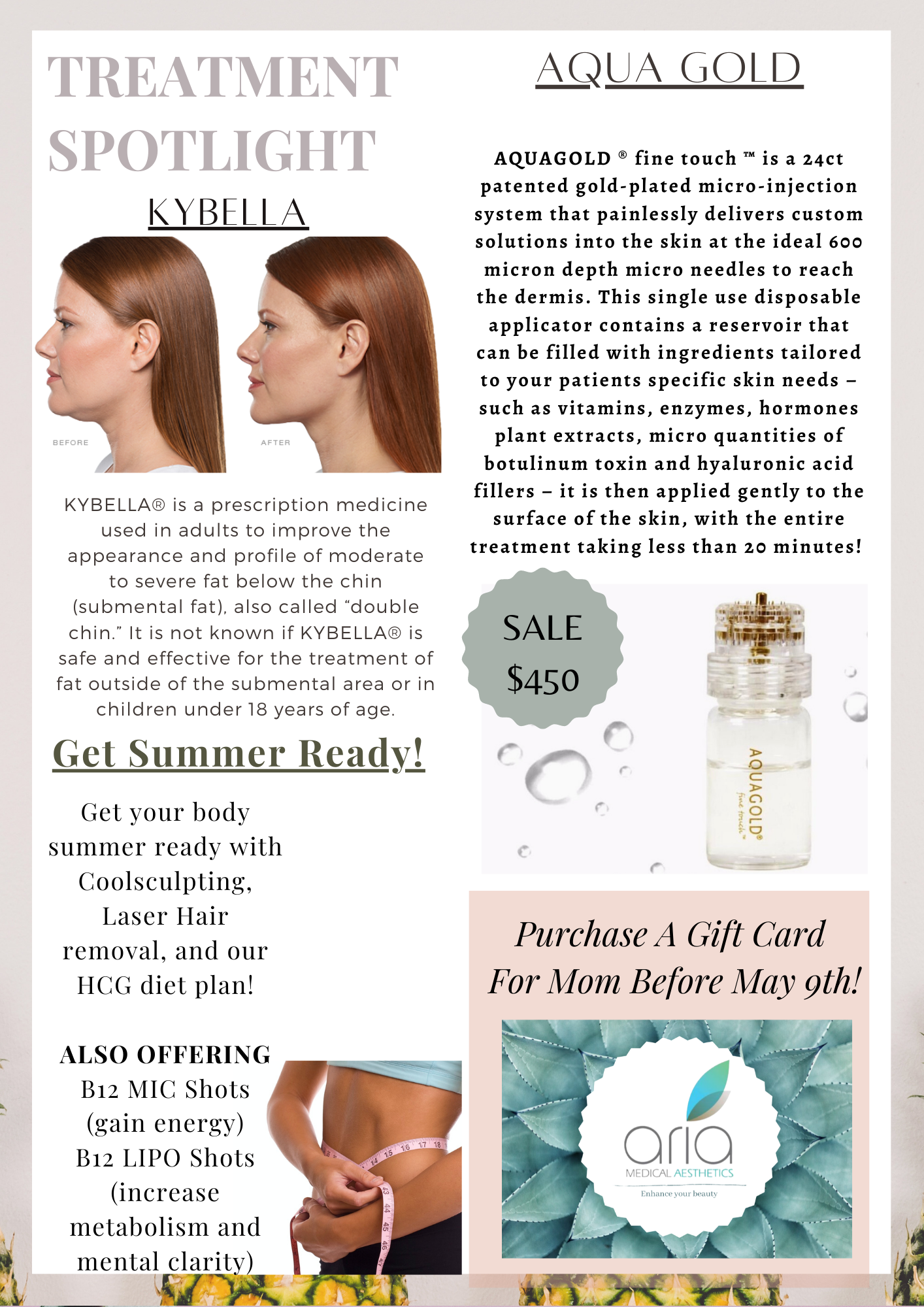 Get Summer Ready!
Get your body summer-ready with Coolsculpting, Laser Hair Removal, and our HCG diet plan!
ALSO OFFERING
B12 MIC Shots (gain energy)
B12 LIPO Shots
(increase metabolism and mental clarity)
AQUA GOLD
AQUAGOLD ® fine touch ™ is a 24ct patented gold-plated micro-injection system that painlessly delivers custom solutions into the skin at the ideal 600 micron depth micro needles to reach the dermis. This single use disposable applicator contains a reservoir that can be filled with ingredients tailored to your patients specific skin needs – such as vitamins, enzymes, hormones plant extracts, micro quantities of botulinum toxin and hyaluronic acid fillers – it is then applied gently to the surface of the skin, with the entire treatment taking less than 20 minutes!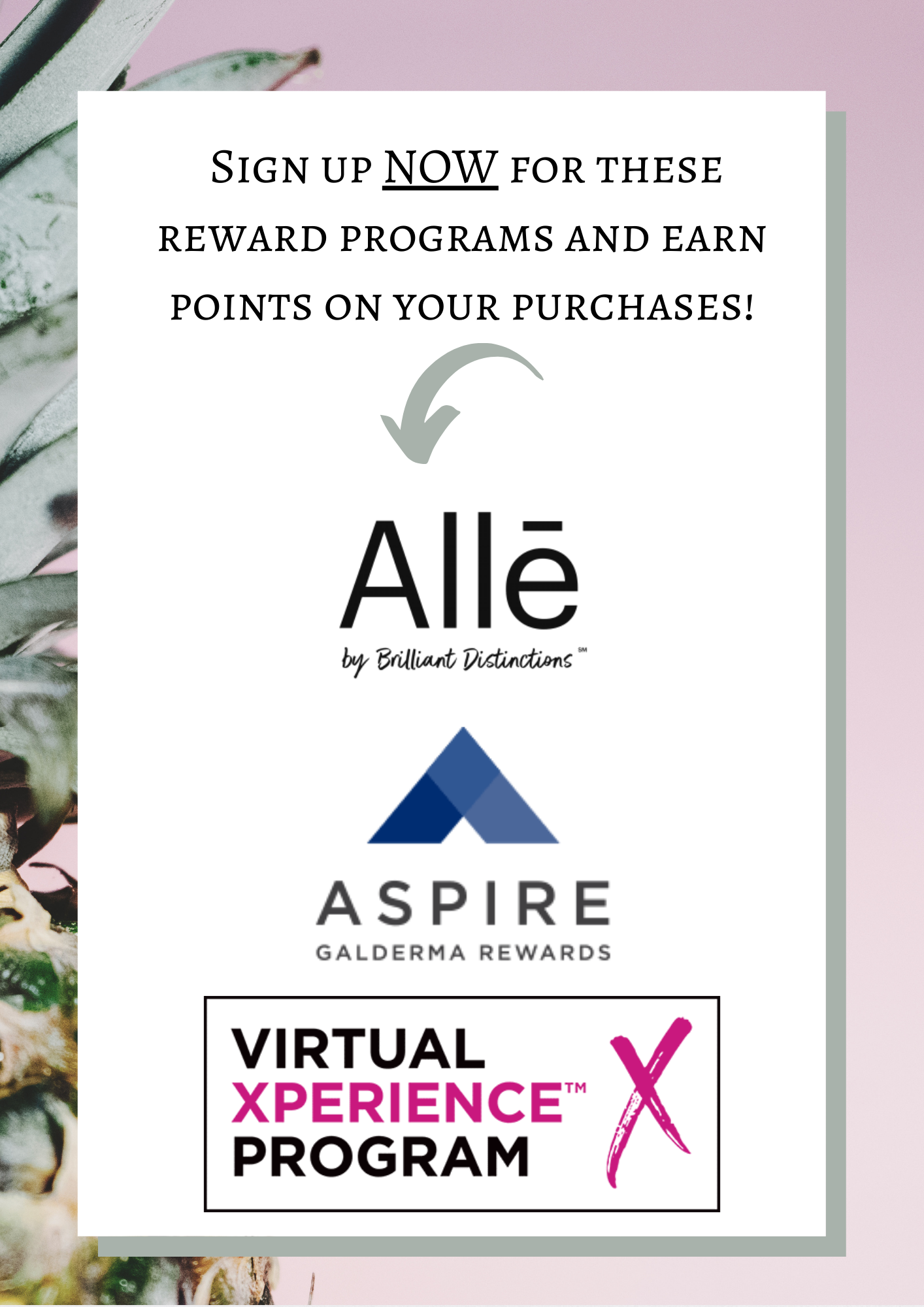 Our Employee of the Month: Kristina Roman
Kristina is the first friendly face you will see when you walk through the front door at Aria. She is the powerhouse behind managing the front office flawlessly and efficiently. In addition, she also performs social media advertising, posting and monthly newsletters for Aria. Kristina is also a graduate of Lincoln culinary institute with a specialization in cake decoration and baking. Kristina is also currently in school for hospitality and food service management. Kristina is a pescatarian (doesn't eat meat or dairy) and her hobbies include traveling, going to the gym, and hanging out with family and friends. Her favorite foods are sushi, coffee, and desserts (of course!). She also loves spending time with her dogs, Maggie, Rocco, and Cardi. Kristina's versatility and shining personality makes everyone's day brighter at Aria, for both our staff and our clients!